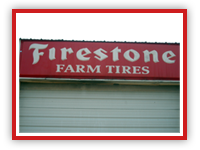 Delivering quality tractor tires to our customers at affordable prices is one of our business' foundations. We have been offering Firestone tires for over 20 years. We also carry Titan and Michelin farm tires. Because of the rise in the price of tractor tires, we have expanded our selection of budget farm tractor tires including BKT and Alliance. We offer a wide variety of American Made and Imported tire brands to meet your needs. We keep many tire sizes in stock and will special order any tire that you require
While we primarily sell tractor tires, we also carry a wide selection of medium duty truck tires, light truck tires and passenger tires made by Bridgestone, Firestone, Mastercraft and Salun. We also carry a variety of imported tires for trailers and industrial tires for loaders, backhoes and forklifts. Small lawnmower and four-wheeler tires are also available.
We also trade for and sell used tires and recaped large truck tires to help you stretch your budget further. Tire repair is offered when possible to keep you up and running longer.